S&T's TSBroadcaster 3 ETV
TSBroadcaster is a headend server which automatically encodes and plays out EBIF and OCAP applications according to a defined schedule. It is suitable for live transmission or lab use.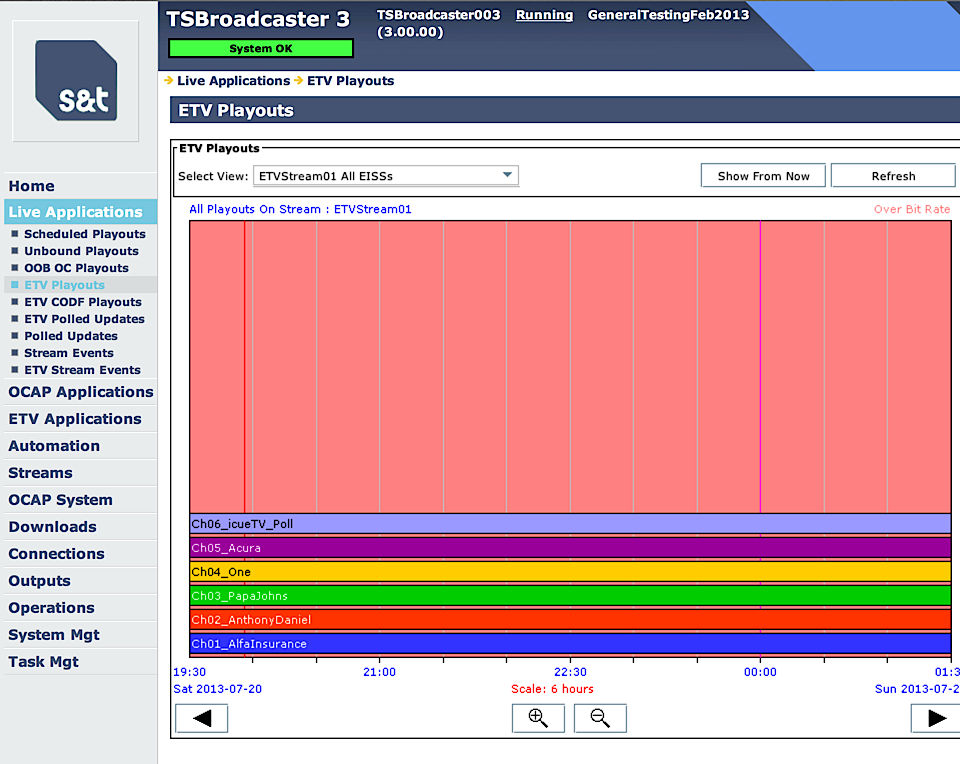 Screenshot of TSBroadcaster 3 for ETV
The delivery mechanism for EBIF applications is a data carousel. The carousel is either a DSM-CC Data Carousel or an Alternative Constrained Data Carousel (DigiCypherII) which has a section size limited to less than 1KB. The DSM-CC Data Carousel is required for Cisco (S-A) set-to-boxes and DigiCypherII is required for Motorola DCTs.
TSBroadcaster generates data carousels (and object carousels for OCAP), encodes them into MPEG-2 transport streams, which are delivered by TSPlayer.
TSBroadcaster also generates the appropriate signalling, which makes the EBIF User Agent aware of the existence of an application.
TSBroadcaster servers are accessed by a web browser. All aspects of TSBroadcaster's functionality can also be accessible via an API. This allows easy integration with other headend software.
TSBroadcaster can build multiple transport streams simultaneously. Delivery of these transport streams requires a TSPlayer software module per transport stream and the default is one output per TSBroadcaster system. The number of TSPlayer software modules which can be run on a single TSBroadcaster or dedicated TSPlayer server depends on a number of factors such as bit rate utilised. Typically we recommend a total of two to four outputs per TSBroadcaster or TSPlayer server.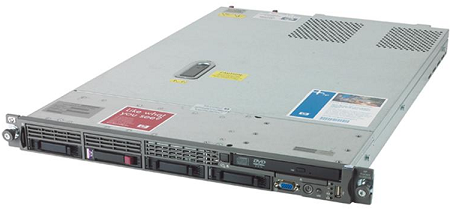 HP DL360 G5
Features
definition, creation and play-out of multiple ETV transport streams
application definition and scheduling
one TSPlayer server included
bandwidth allocation
creation and management of multiple carousels
injection of ETV stream events (triggers)
optional Service Information in-band
Multiple ASI or Gigabit Ethernet inputs and outputs
Easy to use integrated software multiplexer
Peer groups for n+1 resiliency
Automatic failover support
Inspection of live carousel and EISS tables
ETV play-out staging - allows definition of events within a specific play-out. Control Code, Priority and Stream Events may be "staged"
CoDF Import and Export (see below)
CoDF Support
Live Applications management allows import of CoDF play-outs
Import requires a compliant CoDF xml file as input (a number of EBIF authoring tools now generate ETV applications in this format)
Export capability writes a CoDF compliant file to the desktop which corresponds to a TSBroadcaster ETV play-out
ETV Ad Insertion
A companion tool, TSBinder is available for insertion of ENIF applications into MPEG-2 video streams
Primary purpose is for the creation of early-bound EBIF ads