TSMux
TSMux is a software real-time MPEG Transport Stream multiplexer. It is used either as a component of transmission systems or interactively as a laboratory tool. TSMux is included with TSPlayer. TSMux can output to either ASI or file.
The input sources include:
file
TCP/IP
DSM-CC stream events
Tools such as TSPlayer and SoftOC
TSMux features include:
PCR restamping
rate conversion
PID filtering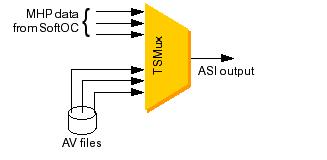 TSMux Block Diagram
TSMux also supports ASI input to capture streaming data from sources such as professional receivers.
TSMux is being enhanced to include a Controllable Player API. This allows the user to develop applications that play a sequence of Transport Stream files. Applications for this API include:
automated test frameworks, e.g. for OCAP or MHP receiver testing
VOD server emulation

If you are interested in the Controllable Player API, please contact us.