M3Tau Automated Test Environment
M3Tau is an automated test and monitoring environment. It is particularly suitable for regression testing of set-top-boxes and cable receivers.
M3Tau consists of a server and client configuration. The client contains either four or sixteen HDMI capture cards which are used to gather video data from the devices under test. A multiple number of M3Tau clients may be connected to one or more M3Tau servers. Clients may be located in different locations.
Web UI for generation of test scripts, STB monitoring and display of tests reports.
Four or sixteen port HDMI inputs per M3Tau client.
Remote control simulation.
Dashboard display showing current status of test execution.
View and monitoring of realtime test execution.
Powerful DevTool mechanism for generation of test routines.
All hardware and software included.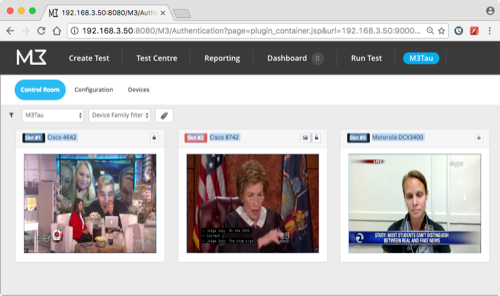 Some More Details
A choice of three Optical Content Recognition (OCR) algorithms may be applied for analysis of text displayed with the video.
Comparison of capture image from a portion of the screen against an expected graphic stored previously.
For both OCR and image analysis, a similarity factor of 1% - 100% can be applied.
Agent UI for additional M3Tau client configuration (streaming port definition, STB connect/reconnect and other tasks).
Integrated ethernet controlled power switch for easy and remote reboot of devices under test.
Linux based server with console monitor display, centralised control of clients and test procudure development environment (M3 DevTool).
M3 DevTool offers numerous capabilities to extend test scripts. It includes if-then options allowing definition of complex test building block sequences. .
Supermicro 6048R based client systems running Windows 10 hosting PCIe HDMI capture cards..
A test routine and test script development service is available from UniSoft.