ETV TSMonitor
S&T's ETV TSMonitor provides a virtual machine environment for execution and analysis of EBIF applications.
It interprets the EBIF applications it receives via a resident User Agent (UA) executing in the virtual machine environment. ETV TSMonitor displays the application over a rendering of the video and provides a virtual remote control to operate the application.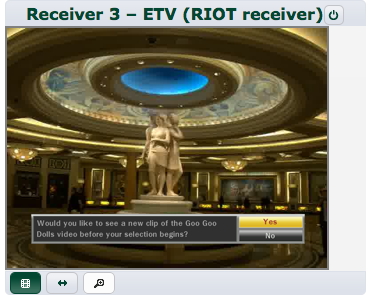 ETV TSMonitor Screen Shot
Primarily the system operates as an alternative to a collection of set-top-boxes and the appropriate headend infrastructure to support execution of the UA.
ETV TSMonitor can also act as an automatic test environment for EBIF applications. In this mode it runs the application using remote control sequences from a pre-generated scripting file. ETV TSMonitor performs an analysis on the graphics plane to detect unexpected behaviour of the application. For example, ETV TSMonitor can determine use of an incorrect logo and display a fail result.
Features and Capabilities
Monitoring provides a reliable approach to determine that the expected EBIF application has been encoded correctly and has reached various points in the cable delivery chain.
Development Environment - provides a full simulation of an EBIF receiver with an active return path to remote response servers. Suitable for testing applications under development.
Dynamic Application Testing - ETV TSMonitor allows definition of customised test cases for each application. A high degree of test coverage can be achieved by defining thorough test sequences.
Scripting Language - a GUI-based scripting language allows you to build detailed test cases for EBIF applications under test. You define the remote control sequences that ETV TSMonitor is to send to the app. and the screens you expect to see displayed.
Logging and Metrics - ETV TSMonitor generates detailed records of applications received and test results.
Hardware - ETV TSMonitor is delivered on a 1RU HP DL 360 G9 or Dell R210 running RedHat EL Linux configured with a number of ASI and/or GbE inputs.
User Agent - Currently the FourthWall UA is supported.