ETV TSMonitor
S&T's ETV TSMonitor provides a virtual machine environment for execution and analysis of EBIF applications.
It interprets the EBIF applications it receives via a resident User Agent (UA) executing in the virtual machine environment. ETV TSMonitor displays the application over a rendering of the video and provides a virtual remote control to operate the application.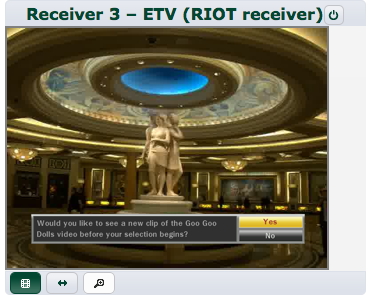 ETV TSMonitor Screen Shot
Primarily the system operates as an alternative to a collection of set-top-boxes and the appropriate headend infrastructure to support execution of the UA.
ETV TSMonitor can also act as an automatic test environment for EBIF applications. In this mode it runs the application using remote control sequences from a pre-generated scripting file. ETV TSMonitor performs an analysis on the graphics plane to detect unexpected behaviour of the application. For example, ETV TSMonitor can determine use of an incorrect logo and display a fail result.